PG: The newest crop of dining options includes the Region's first shipping container restaurant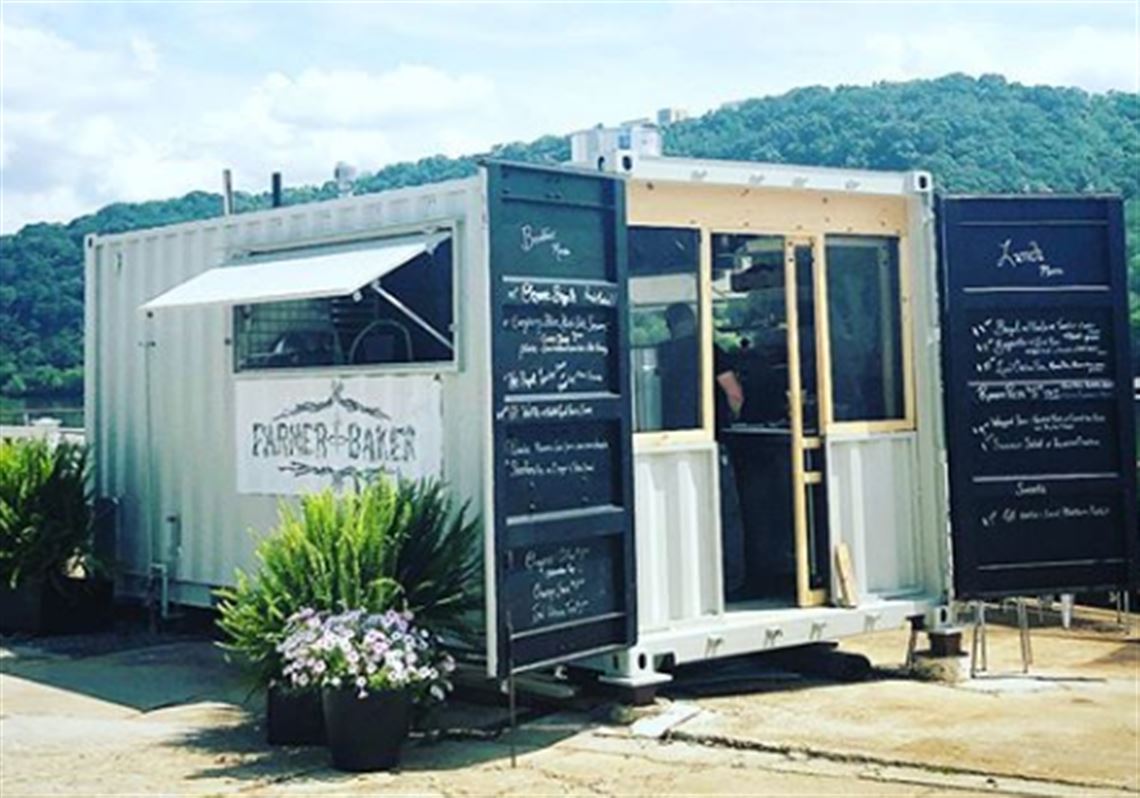 Pittsburgh's newest dining options include the region's first shipping container restaurant
New restaurants have gotten decidedly more casual as Pittsburghers continue to dine out often. They allow more of a come-as-you-are vibe with lower per-person check averages than restaurants opening in the area, say, five years ago. Here's the newest crop.
e This is the region's first shipping container restaurant
The O'Hara/Aspinwall corridor is seeing some action when it comes to restaurant openings, with the debut of Alta Via and the second location of Mercurio's, both in O'Hara, and another location for Mad Mex in the Waterworks Shopping Plaza.
With a fine view courtesy of Aspinwall Riverfront Park, Farmer x Baker cafe is now open, a farm-centric daytime restaurant from Jennifer Urich behind Root and Heart Farm in West Deer.
It's the region's first restaurant in a shipping container: From SnackBox in Times Square, New York, to El Rey in Washington, D.C., this eco-friendly upcycling option has become more commonplace around the country as real estate prices continue to climb. Not only has Ms. Urich claimed a prime spot with a waterfront view, she did it for under $100,000 which is becoming unheard of in the Pittsburgh region.
"This is the craziest thing I've ever done," Ms. Urich says. She had been shopping the idea of a shipping container restaurant around to other chefs for awhile with no success and so she decided to open it herself. When she came across the Aspinwall Riverfront Park location, she says she was "hit by a lightning bolt." Having grown up in Michigan by the Great Lakes, she's drawn to the water. "And if I'm going to spend all my time here, I wanted to love the location."
Plans started in earnest in November, with the shipping container delivered to the location by June. The board of the Riverfront Park has been super supportive, she said, having helped her by raising thousands of dollars. She opened in July and has intentions to serve food through December. Fire pits and space heaters should help her prolong the season.
Ms. Urich says she sources all ingredients "except for salt and olive oil" locally from places like Chantal's cheese shop in Bloomfield, Tiny Seed Farm in Allison Park and her own farm; look for a breakfast menu of homemade bagels with local ham, egg and cheese ($9), gluten-free waffles dressed with peaches and cream, shakshuka and farm greens ($10), and a bacon, egg and cheese breakfast pie ($8). Lunch ushers in a selection that includes Roman-style tray pizza slices ($5), chicken pita sandwich ($10), as well variations on a baguette ($11). Closed Monday and Tuesday, hours are 9 a.m. to 2 p.m., with a new 6 to 9 p.m. Sunday dinner. It's a dog-friendly, BYOB restaurant.